Will "A Hero's Journey" Really Work For Me?
What Are 3 Things I Will Gain If I Do This?
Through "A Hero's Journey", you will gain a much deeper knowledge and understanding of who you are, what you want, what is most important to you and what your innate strengths and weaknesses are so you can consciously choose to evolve and become a stronger better you.
Through a brilliant but simple process called the Enneagram, you will take a deep dive into your nature, tendencies, strengths, and weaknesses through each step in your life's journey.

You will be guided through a process of discovering and identifying what you are truly passionate about in your life.

You will be guided to investigate and evaluate your beliefs and how to choose the beliefs that serve and empower you and replace the ones that limit you.

You will participate in exercises and questionnaires to clarify and prioritize your core values so that you can begin making decisions that create a life that truly represents what you most value as the hero you are choosing to become.

You will learn that your life is made up of stories that you have created and that the quality of these stories determines the quality of your life.

You will discover that you created these stories to try to explain and make sense out of the circumstances and events that have occurred in your life. You may not be able to change the circumstances and events of your life, but we will show you how to change your stories from being a victim to being a hero. This will totally change your life!
From clarity gained on many levels comes the opportunity for greater consciousness.
Most people live their lives largely on autopilot, unconscious of their real motivations, and they then act out repetitious stories that produce the same results again and again.

Becoming a fully functioning whole human being requires a high level of consciousness which begins with clarity of mind and then extends to incorporate the body and spirit. This mind, body and spirit congruency creates a state where what you think, you can also feel and sense with your entire being.

You can then live your life from a place of knowing rather than just thinking or hoping or believing.

"A Hero's Journey" provides you the engagement, the knowledge and a variety of specific exercises that are designed to help you create this integration of mind, body, spirit and the development of higher consciousness.

You will become the conscious creator of your life!
As clarity grows into consciousness, confidence develops as a natural consequence. Through "A Hero's Journey" course, you will be clearer, stronger and more powerful because:
You will understand that you are on a Hero's Journey, what the 5 steps of the journey are and where you are in the process.

You will know what you want and who you are and will consciously choose to focus on your strengths.

Your beliefs about yourself will become strong and powerful and you will let go of the beliefs that once limited you.

You will live your life in alignment with heroic core values. You will know what is important, more important and most important to you.

Your decisions will be life-affirming.

The stories you tell yourself and others will become positive, powerful and heroic where you have transcended your life's circumstances and events, not just survived them.

You will be a highly conscious whole human being integrated in your mind, body, and spirit. You will be aligned in your thought, feeling, and senses. You will just know.
"A HERO'S JOURNEY" is an eight-week experiential and interactive online program that provides the knowledge, tools and experiential processes that guide you to create a conscious intentional process and structure for you to create and experience a personal journey of growth and fulfillment in all areas of your life.
"A HERO'S JOURNEY" will transform your unconscious life journey into a conscious Hero's Journey that is experienced with greater awareness, purpose, confidence, serenity, fulfillment, and happiness. You will become the hero or heroine you were born to be!
14-DAY No Risk Money Back Guarantee
If for any reason during the FIRST 14 DAYS of your purchase, you are not completely satisfied with "A Hero's Journey", simply let us know and we will issue you an immediate and full refund.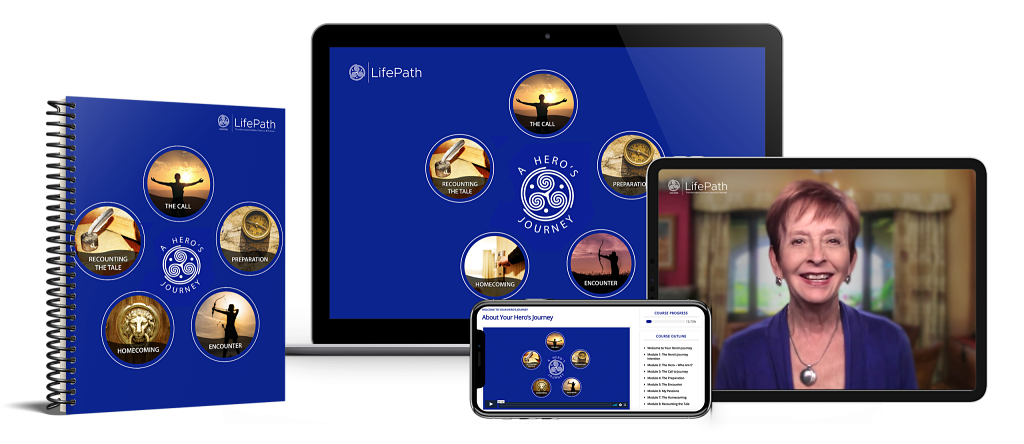 A Hero's Journey
Become The Hero You Were Born To Be
"A Hero's Journey" is an 8-module internet-based multimedia and interactive program for personal growth and transformation. Each of the 8 modules consists of lessons supported by videos, transcripts, exercises, detailed documents to guide you through the process, journal pages, and extensive bibliographies for further learning. All of the written materials can be downloaded so that you will have a written chronicle of your journey when you finish.
We're also pleased to say that "A HERO'S JOURNEY" IS NOT JUST A COURSE, IT'S ALSO A COMMUNITY! We know that going through this process will be a powerful transition and change in your life and may, at times, be challenging. "A Hero's Journey" dives deep into helping you explore these challenges and also helps you to become much more conscious and to create new stories and a positive new life for yourself. We know that there will be questions and insights arising all along the way. To get the most from this profound process of transformation, you not only get direct support and connection with Beverly and Michael but also with others sharing their own Hero's Journey experience.
When you register for "A Hero's Journey", you become part of a private interactive online Hero's Journey group where you can share your experiences and have direct contact with Beverly and Michael, as well as others on their own Hero's Journey. There will also be live monthly group Zoom calls with Beverly and Michael where you can ask any questions you have, share your insights and get additional coaching and support. Our goal is to support you on each step of the Hero's Journey so that you will emerge as the true Hero or Heroine that you are.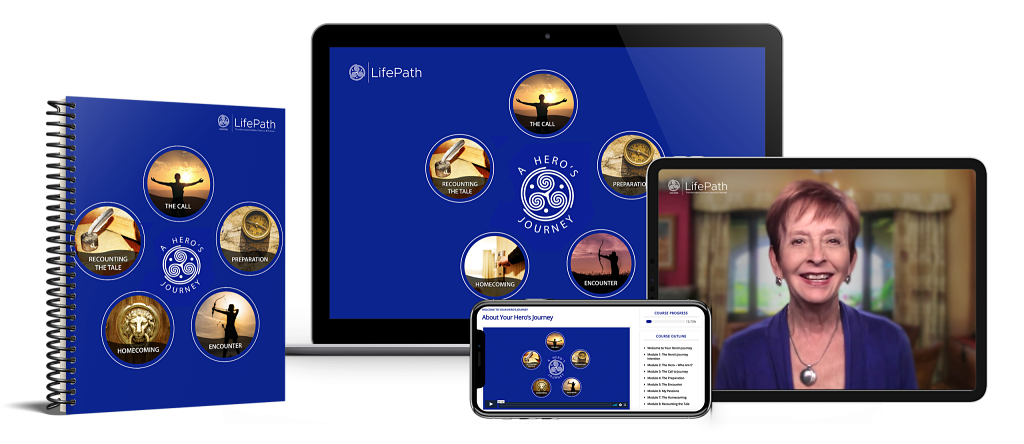 *This course is a digital course. No physical products will be sent to you.
14-DAY No Risk Money Back Guarantee
If for any reason during the FIRST 14 DAYS of your purchase, you are not completely satisfied with "A Hero's Journey", simply let us know and we will issue you an immediate and full refund.
Frequently Asked Questions
What is included in the course and how do I access the materials?
The course includes online access to eight training modules with Beverly Nelson, Ph.D. and Michael Bartlett. In each of the eight modules you will be guided through a series of guided practices designed to unlock the five steps of the Hero's Journey and apply them to your life. Each module consists of informative videos with Beverly and Michael, PDF transcripts of the videos, exercises, documents, journaling pages, bibliographies, and optional exercises such as meditations and body/mind practices. You will also have exclusive access to a private online community for Q&A and discussion and monthly online group calls with Beverly and Michael.
The Welcome Module and Module One will be available to you immediately upon registration and the following modules will become available to you on a weekly basis over the next seven weeks. All of your videos and teachings will be available to you in a private learning portal for easy access. You can begin the course whenever you're ready with each module becoming available a week after the prior module.
Are the sessions live or pre-recorded?
Each module consists of videos that are pre-recorded so that you can access them at any time. Each month there will also be a live discussion and Q&A session with Beverly and Michael.
Will you be mailing anything to me or is everything digital?
Once payment is received you will have immediate access to the course online. You will receive everything online and will not receive anything through the mail.
How is "A Hero's Journey" approach different from other transformational courses?
"A Hero's Journey" is the only approach that addresses how to use the steps of the Hero's Journey to transform your life on a daily basis. This process will literally change the way you see your life and the world.
How can I reach Customer Support?
Please contact us at support@lifepathmasters.com with your questions and we will work with you to find an answer to your question. Be sure to add this email to your contact list so that it doesn't end up in junk/spam/promotions folders. But, please check there, just in case!
How long will I have access to the course?
You'll have access to the training for the lifetime it's available online. You can also download the materials to your personal computer or device so you can access them at any time long after you have completed the course. In fact, we encourage you to revisit the online course on a yearly basis to explore new journeys and insights.
Can you tell me more about the Satisfaction Guarantee?
Your satisfaction with LifePath Masters and this course is our highest priority! If you find within 14 days of your registration date that you are not satisfied with the program, you may request a full refund. Refunds will be issued, no-questions-asked, in the same form of payment made and may take up to three weeks to process. You'll receive an email confirming your refund. Requests can be made in writing to info@lifepathmasters.com. If there's something we can assist you with, please email us at support@lifepathmasters.com and we'll be happy to help!
Can you tell me about the private online community group?
We'll have a private online community group for all course participants that will support you in making connections with others, sharing insights, engaging in discussions, and asking any questions of the facilitators that will supplement your transformational journey. You'll have the ability to share your experiences and growth throughout the course.
All materials are owned and copyrighted by LifePath Masters. They may not by copied, reproduced, or distributed in any way, in whole or in part, without the express prior written approval from the site's authorized personnel. Any unauthorized use of the materials is prohibited.